Mila d'Opiz Skin Vital
Mila d'Opiz Skin Vital supports the microcirculation of the skin with energy and vitamins, resulting in a fresh and healthy-looking complexion.
Mila d'Opiz Skin Vital
For more than 70 years, Mila d'Opiz has been involved in skin care development at the highest level.
All Mila d'Opiz Skin Vital products are based on a combination of vitamins A, C and E. Due to the special encapsulation of vitamins, Skin Vital supports the microcirculation of the skin, resulting in a fresh and healthy looking complexion. Depending on the needs of the skin, the products are provided with additional active ingredients and ingredients.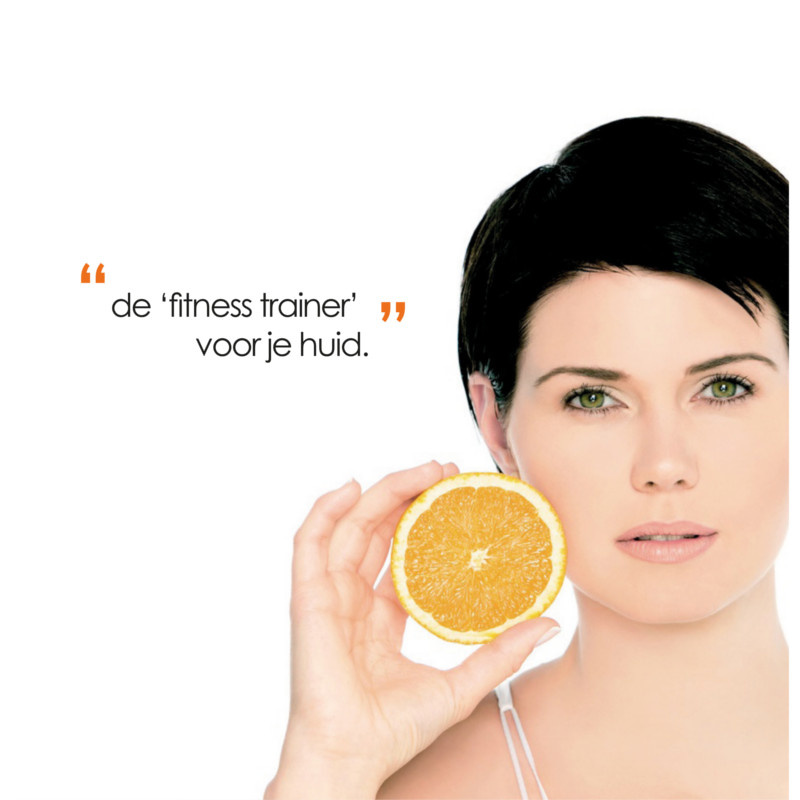 Mila d'Opiz Skin Vital fills your skin with energy and vitamins that have been lost due to harmful external influences such as UV radiation, environmental pollution and stress.
CLEAN & CARE
2 In 1 Vitamin Cleanser
This delicate gel-like cleansing lotion gives the skin a refreshing and pleasant feeling while cleansing. A healthy appearance in the morning and evening by adding moisturizing ingredients and vitamins.
Vitamin Capillary Balm, especially for couperose skin
Encapsulated vitamin complexes in combination with marigold and gingko-biloba extract give the skin a soft and fresh appearance. The integrated instant effect immediately visibly balances redness and blood vessels after application.
BALANCE, HYDRATE & REGENERATE
Q10 Vital Cream
This light, fruity cream from the Mila d'Opiz Skin Vital series activates the skin's own functions and supports the skin's self-protection against negative external influences. Q10 helps the skin to look younger for longer.
Swiss Multi-Vitamin Cream
The light composition of this cream provides a pleasant, pleasant and soft feeling once applied. It helps to reduce the first signs of dryness lines and gives the skin a silky glow. Encapsulated vitamins give your skin an instant energy boost.
Enriched Vitamin Cream
This rich cream contains edelweiss extract, triple moisture complex and a skin protection complex, in combination with encapsulated vitamins. This combination ensures the dry, tired skin of a soft and healthy looking skin. Due to the specially developed composition, this cream is extremely suitable for use in winter.
Moisturizing Lotion with UVA protection
This soothing ultra light lotion refreshes the skin and leaves a wonderful feeling. The light composition is immediately absorbed by the skin and ensures optimal moisture care.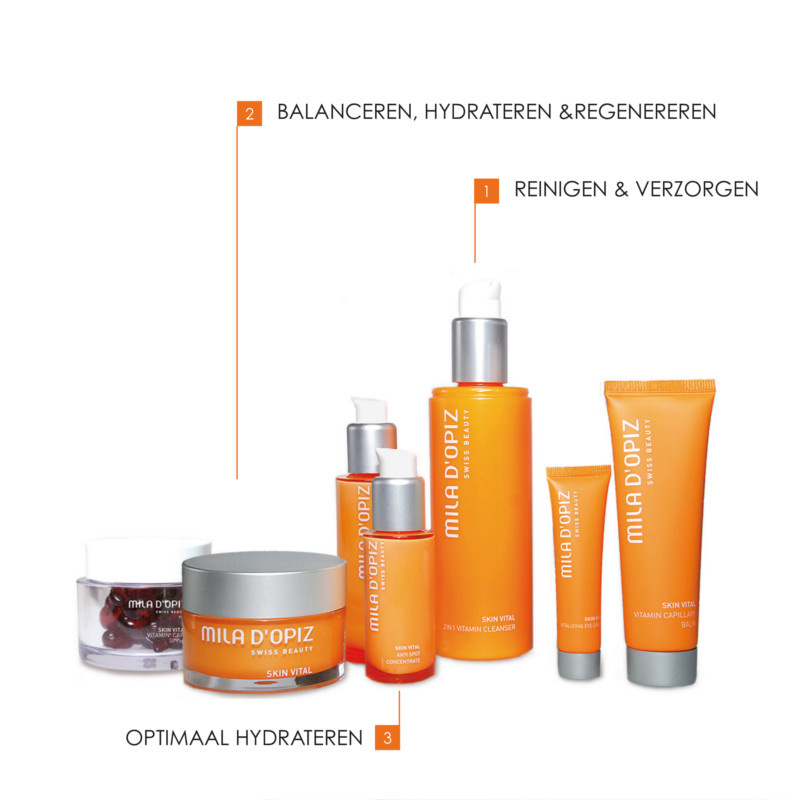 OPTIMAL HYDRATION
Anti-Spot Concentrate
A light, moisture-retaining serum makes the skin soft and at least ensures an even complexion and helps to combat pigmentation disorders and age spots.
Mila d'Opiz Skin Vital Vitalizing Eye Cream
This perfume-free and effective eye care cream prevents lines and wrinkles and provides a fresh and clear look around the eyes. The combination of various vitamins and moisture-stabilizing ingredients support the natural cell function.
Vitalizing Eye Mask
This soft cream mask for the eye contour removes all signs of a tiring day in a very short time. The skin around the eyes radiates, looks younger, smoother and relaxed.