Mila D'Opiz Classics
Mila d'opiz Classics. With guaranteed quality and results. For more than 70 years successfully developing products without any animal testing.
Mila D'Opiz Classics
Mila d'Opiz Classics
You are an individualist and you are not satisfied with just simple advertising slogans. You want to judge and choose yourself. You trust a Swiss company that has been conducting research and developing products without any animal testing for more than 70 years: cosmetic care products with guaranteed quality and results that truly meet the needs of customers. Enjoy the diversity and positive results of the Mila d'Opiz Classics care line.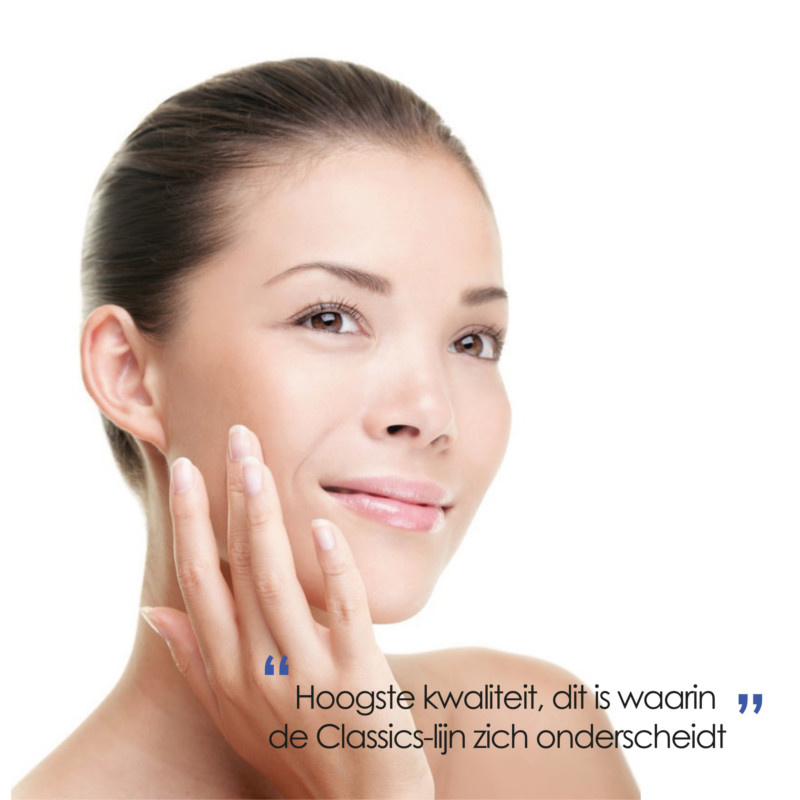 A pleasant light day care for all skin types that offers UVA / UVB protection SPF 15 protection. Lack of moisture due to stress, unhealthy food or harmful environmental influences is immediately compensated. A perfect day care, also for men after shaving.
COLLAGEN OPTIMA, CELL SUPPORT & SANDDORN CREAM
Collagen Optima Cream
Particularly rich 24-hour care for dry and demanding skin. This ultimate collagen moisture care is quickly absorbed by the skin. The nano particles bring high-tech stabilized vitamins C, E and Q10 into the deeper skin layers and activate the collage synthesis. A high concentration of jojoba oil and hyaluronic acid complete the effective composition and allow the skin to regain its youthful freshness and tightness.
Sanddorn Cream
This very rich cream based on sea buckthorn extract with a highly concentrated vitamin cocktail has exceptional virtues. The specific combination of vitamins stimulates the function of the skin, strengthens connective tissue and promotes the formation of new cell tissue.
Cell Support Cream
The repairing and revitalizing MdO complex helps mature skin with self-regeneration. This rich cream stimulates cell metabolism, improves skin elasticity and strengthens protection functions. Moisturizing and caring substances give this product the designation of an optimal regeneration cream.
CLIMAT CREAM
A rich 24-hour care for all weather conditions. Forms a protective shield for the skin against all kinds of climate influences (including cold). Suitable for all skin types. The cream penetrates easily into the skin and leaves no traces of oil. Apply in the morning / evening after cleansing to the face, neck and décolleté.
FRUIT ACID
Light AHA cream for all skin types. The natural AHAs soften the horny layer and gently soften the dead skin cells, stimulating cell growth. In this way the recovery of the skin is promoted. Super hydratant and antioxidant. Unique within the Mila d'Opiz Classics line.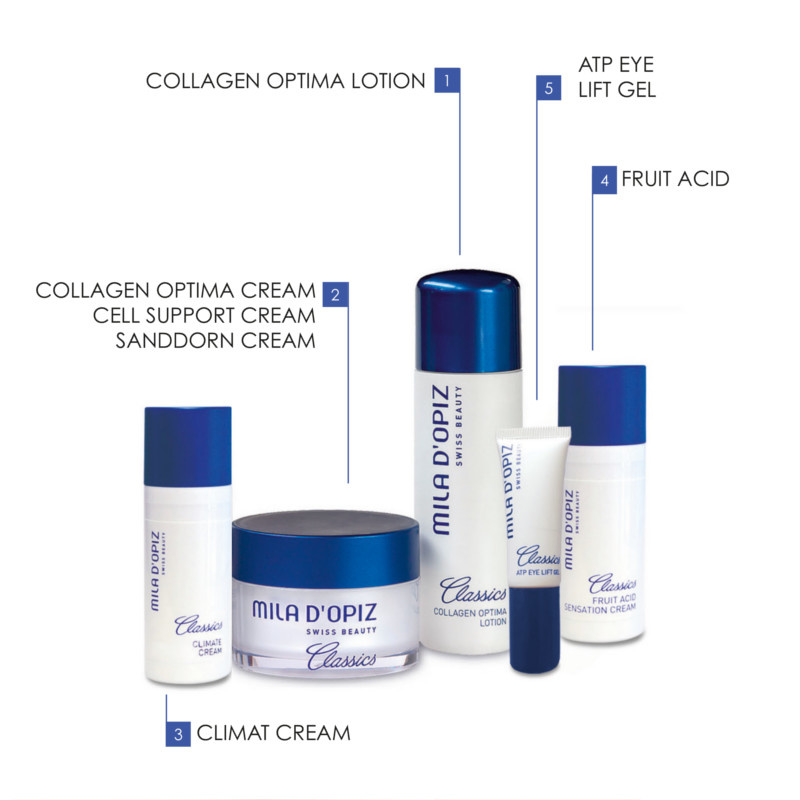 This cooling gel refreshes and relaxes the sensitive skin around the eyes. Nourishing substances improve the elasticity of the skin and fight against the test of time. Effective bio-technological ingredients soften lines and wrinkles and offer a calming and soothing effect around the eyes. The gel is oil-free.