Mila d'Opiz Mila Sun
Mila d'Opiz developed the Mila Sun line to help our skin to an effective level of protection. Very economical in use and extremely effective.
Mila d'Opiz Mila Sun
Mila d'Opiz Mila Sun
The sun has many positive effects on our body and well-being. It assures us of a healthy metabolism, inner balance and helps the skin to produce vitamin D. But too much sun can damage the skin considerably.
We humans need the sun and light as a powerful source for a healthy metabolism, well-being and inner balance. Without sunlight our metabolism would have a lack of vitamin D, only with the help of ultraviolet rays can vitamin D be produced in our body.
Our skin protects itself against harmful radiation, but only a healthy skin is powerful enough to protect itself. That is why a healthy lifestyle and preventive care are important.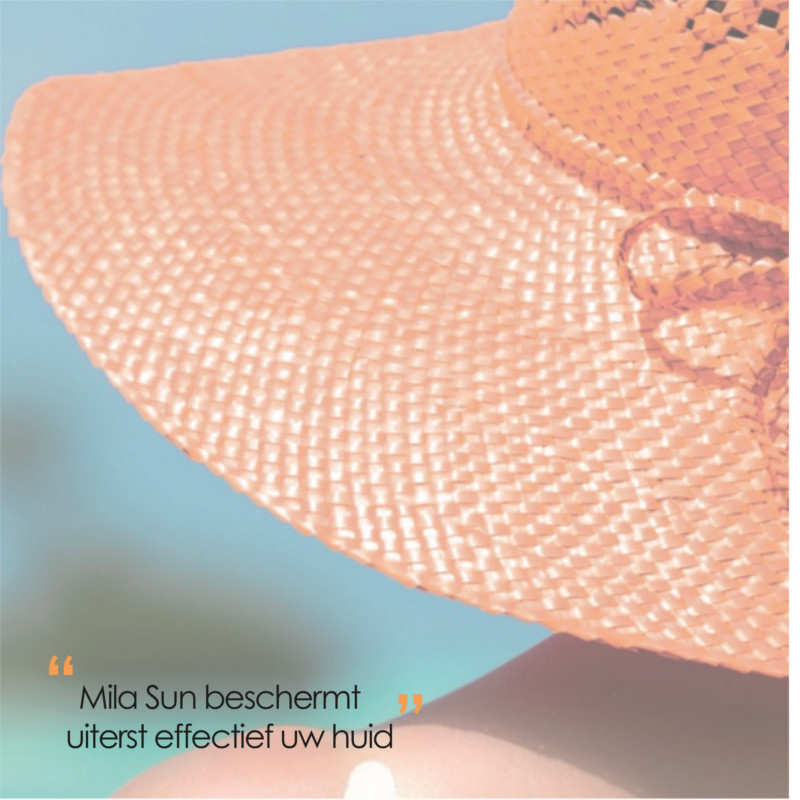 Dermatologists agree that premature aging is also caused by uncontrolled sunbathing. The worldwide increase in skin diseases (and skin cancer) is primarily due to excessive UV radiation.
Mila d'Opiz developed the Mila Sun line to help our skin reach an effective level of protection.
Mila Sun was developed according to the newest criteria of the EU committee, is easy to apply and protects the skin extremely effectively.
FOR SUNNING
Pre Tan Lotion
This lotion promotes melanin build-up of the skin and activates and accelerates the skin's own tanning process. It prevents and reduces skin irritation and gives the skin a pleasant feeling. It also improves skin elasticity and helps skin's own regeneration. By applying Pre tanning lotion a week before the holiday, one optimally benefits from the melanin build-up of the skin.
Self Tan Cream
The Mila d'Opiz Mila Sun cream gives a tanning effect already after 1-2 hours, without sunbathing and is suitable for both the face and the body. It contains a triple self-tanning system for even tanning without sun and supports the tanning process in a natural way. This moisturizing Self Tan Cream is easy to apply, absorbs quickly and does not dry out the skin.
SUN CARE
Bronzing Spray SPF 20
Offers optimum protection thanks to the combination of various protection factors. It leaves no sticky feeling, is quickly absorbed and soothes the skin while tanning.
Sun Safe Spray SPF 30
Offers optimum protection thanks to the new revolutionary Uvinul Easy complex and softens expression lines and improves skin relief. It leaves no sticky feeling, absorbs quickly, calms and balances the skin. Sun Safe Spray SPF30 can be used as day care during sunny days.
Sun Block Spray SPF 50
Offers maximum protection through the combination of various UVA-UVB protection systems and Uvinul Easy. The spray works regenerating, soothing, hydrating and is ideal for delicate children's skin. For optimum protection, apply Sun Protection cream Spf 50 15 to 20 minutes before going into the sun.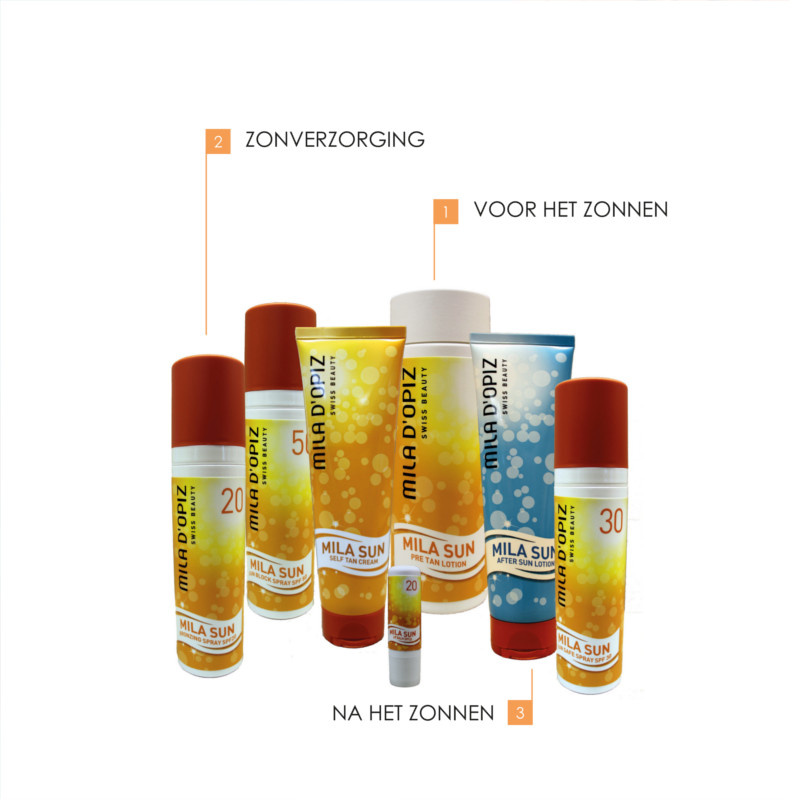 Lip Balm SPF20
This Lip balm protects and keeps the lips soft and supple. The long-lasting intensive care, protects against drying out, prevents chaps and cracks. You can easily apply the lip balm with the applicator, has a pleasant vanilla scent and is colorless so suitable for men, women and children.
This after sun has a cooling and calming effect, hydrates the skin and refines the skin image. It also soothes irritated skin and prevents redness. It protects against the first signs of skin damage due to the sun. Apply the after Sun lotion immediately and generously on face and body after every sun bath. By placing the after sun lotion in the fridge, it becomes easy to use for a longer period of time.